On July 10th, I attended an event organised by the Committee on Standards in Public Life (CSPL), called Setting the Standard – CSPL looks ahead in London. This was an event where together with academics, members of central and local government, regulators, academics and others, the CSPL discussed the content of their annual report, their understanding of current and developing issues, as well as their 'forward plan'  and 'strategic plan'. They opened the floor for feedback and specifically mentioned their desire and need for collaborations.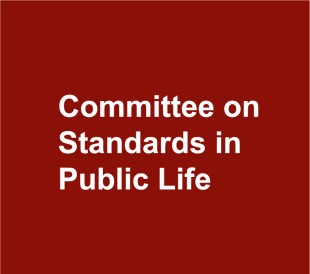 The mission of the CSPL, as described here is to "strive for excellence in standards [of public office holders in the UK]" and to "remain alert to emerging scandals, as well as progressing other long standing, substantial projects". In this context the Committee also mentions that it is necessary for the expectations of conduct – as laid out in the Nolan principles – to be clear.
All in all the insights shared will be very helpful, for my supporting research for the CSPL Research Advisory Board  – I will now better understand the priorities of the Committee as well as some of the concerns that people have – and my PhD project, which does address perceptions of the behaviour and communication of UK public office holders as well. Plus , I was especially happy to find that the Committee is interested in the extent to which factual and non-factual (wrong information or 'lies'?) is communicated on social media, which is much related to what I'm currently researching. This is going to be a great year (of research)!